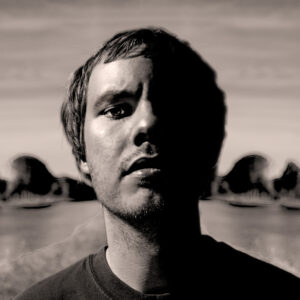 Slowtide is the artist name of singer/songwriter, producer and multi-instrumentalist Kevin Werdelmann from Bochum, Germany.
Inspired by the music of Vince Clarke (Depeche Mode, Erasure), Jean Michel Jarre and Chris Hülsbeck, Kevin started out at an early age composing songs and electronic music on a Commodore Amiga 500 home computer for various self-made films. His first public output arrived in 1997 with the electronic concept-album "London", on which he channelled the impressions of his impactful first visit to the British metropolis. The limited run CD-R already received an enthusiastic review from the electronic music e-zine E-lectric.
Beyond his electronic roots,  his love for guitar-driven music from British bands like The Verve, Radiohead and Travis and songwriters like Nick Drake and Brian Wilson eventually lead him to pick up a guitar and become a self-taught multi-instrumentalist and singer, which resulted in the release of two Demo EPs called "Time Escape" (2001) and "Things That Fade" (2002). With the development of Slowtide as his artist name in 2002, he combined the best of both worlds, creating eclectic indie-pop music. Since then, he played live with internationally renown bands like British Sea Power, Gravenhurst, Eskobar, Treetop Flyers or The Wave Pictures on many stages throughout and outside the country.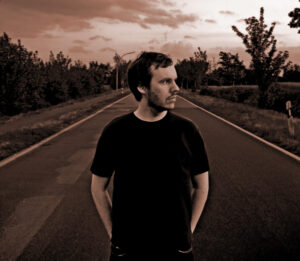 The official debut album "Origins", nearly completely recorded in a bedroom, was released in January 2009 on marchpane records to wide critical acclaim, including album of the month awards.
August 2012 saw the release of the second Slowtide album "Solaria" (Timezone Records), an ambitious bright-shining chamber-pop record with lush string and brass arrangements and contrasting bitter lyrics about disappointed yearnings and missed opportunities.
Celebrating its 20th anniversary, the early work "London" was re-released digitally to a wider audience in November 2017.
A third album called "A Gentle Reminder" (Timezone Records) followed in November 2018, on which Kevin took a look back and breathed new life into the raw demo fragments of "Time Escape" and "Things That Fade". The rearranged and newly recorded studio versions represent a reinterpretation of youthful ideas from a mature perspective. In January 2020, it was followed by the release of the digital single "Ship Of Fools" –  a cover version of a song by Erasure that was recorded as a tribute during the last albums sessions.